LACMA's Extraordinary Damascus Room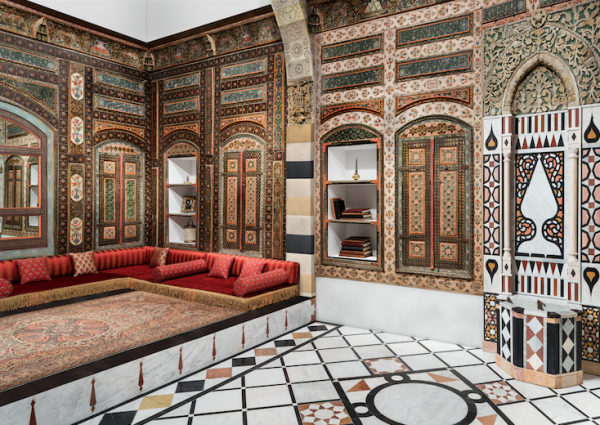 The Damascus Room at the Los Angeles County Museum of Art (LACMA) features an installed and preserved reception hall from a house in Damascus, Syria. The interior dates to 1766-67/ AH 1180.
The interior was part of a house that was pulled down to make way for a highway. It was bought by a dealer (presumably thereby saving it) and was exported to Lebanon and then to London where it was found, in unrestored condition, in a London warehouse in 2011.
The interior comprises wood (soft poplar) with gesso relief, copper and tin leaf, glazes and paint, plaster with stone paste inlays, and multicoloured stones. The installation and conservation was done in partnership with the King Abdulaziz Center for World Culture.
A fine explanation of the room together with a short documentary on the history and the conservation of the room's interior beautifully narrated by actor Julian Sands has been prepared and can be found here.
– o 00 o  –
See our collection of items drawn from across the Islamic World.
Receive our monthly catalogues of new stock, provenanced from old UK collections & related sources.
See our entire catalogue of available items with full search function.
– o 00 o  –