Silver Thai Reliquary Urns
Examples of a group of antique vessels from Thailand and sometimes Cambodia, usually made of silver or silver-gilt, occasionally appear on the market in Europe, the US and elsewhere and are often are described as 'vases' or even 'confectionary jars'.
In fact, they are vessels to hold cremated ashes usually of one's relatives but also for items associated with the Buddha or perhaps a venerated deceased monk. Sometimes, they are made of wood too, which typically is carved, lacquered and gilded.
They have bodies that slope out from the base, and lids that sit tightly. The lids have a number of tiers around a central spire. The form is that of a Thai chedi or prang stupa, commonly seen in the grounds of Thai monasteries and temples.
Larger forms, made of gilded wood, were also used to store the bodies of deceased kings and other members of the Thai royal family prior to their cremation. The bodies would be arranged inside in an upwards fetal position.
The small urns made of silver and gilded silver rare are seen these days and no longer are in use in present-day Thailand. Most date to the early 20th century and before.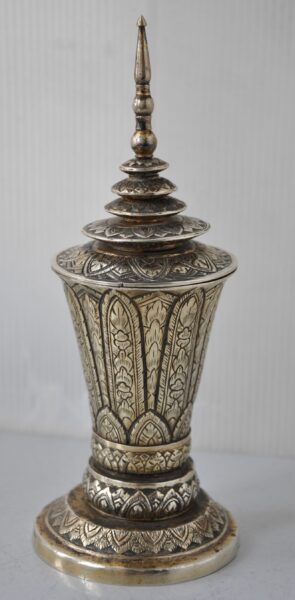 This example which dates probably to the 19th century and is either Thai or Cambodian, is of gilded silver. It is approximately 20cm high.

This example is more complex than most and is of chased silver. It is about 28cm tall.

This gilded, lacquered reliquary – which we have in stock:  see it here – dates to the 19th or early 20th century and is 52cm tall.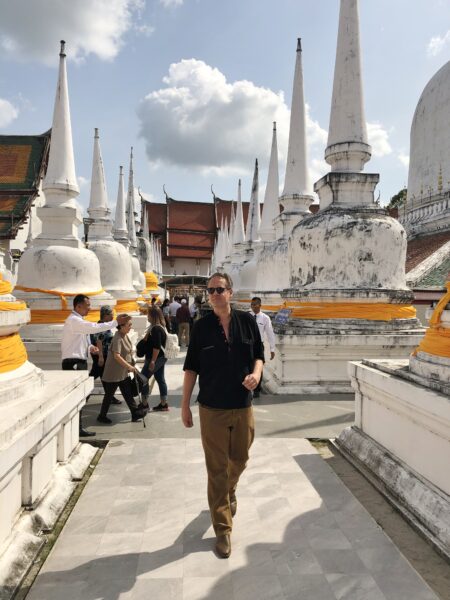 Among the prangs at Wat Phra Mahathat Woramahawihan, Nakhon Si Thammarat, southern Thailand, early 2020.
Receive our monthly catalogues of new stock, provenanced from old UK collections & related sources.