Discoveries 4: Our Best Sri Lankan Find – Rare Gold & Silver Lime Box (Killotaya) set with Rubies & Garnets
This is the fourth in a series of blog posts devoted to our favourite-ever items that we have discovered.
Discovering items that hitherto have been forgotten, to give them the right attribution, is an important task of a good gallery. Research is so important. Many of our discoveries find their way to museums to be be protected for future generations. This is one of the most gratifying aspects of what we do.
This splendid aristocratic lime box was found in London. It is notable for being densely set with rubies and garnets on both sides. It was for a man and was designed to be portable – in essence it is a form of men's jewellery! It is now in the National Gallery of Australia, in Canberra.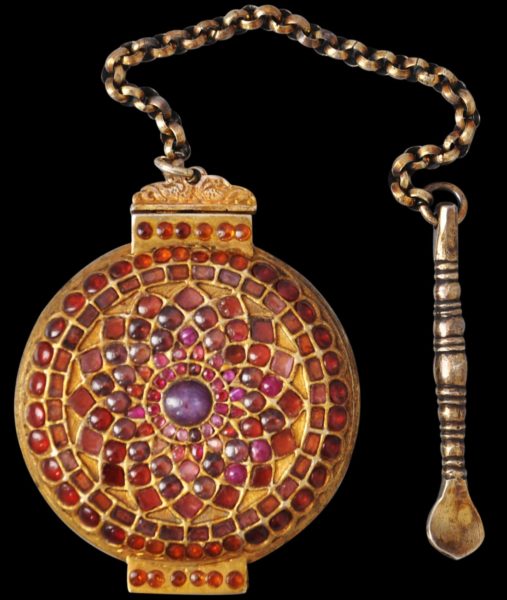 Here is our original description:
This astonishing lime or chunam box known as a killotaya comes from the Kingdom of Kandy, central Sri Lanka.
We know of only one other related example: that which is on display currently in the Colombo National Museum as part of the regalia of the last King of Kandy (see the image of that piece below). It is likely that the example here also was part of the regalia or belonged to a member of the King's inner family, given the royal prerogative for owning and displaying gem-set gold and gilded items. (The whereabouts of most of the King's regalia is not known: most of it was looted or removed in 1815 when the King was deposed and sent into exile by British troops thus ending the Nayak Dynasty. In 1820, an auction of 90 items seized from the King's palace was held at 38 King Street, Covent Garden in London. In the auction catalogue, the jewels were described euphemistically as having been 'presented by His Majesty to his captors'.)
The example here is of gold-plated silver inset with cabochon garnets and rubies that are arrayed as an elaborate lotus flower within garnet and ruby borders. Both sides of the box are decorated with the same inlaid lotus petal design. The stones are impressed into the metal. According to Coomaraswamy (1956, p. 210) setting stones with claws or teeth was unknown to Sinhalese jewellers until relatively late. The most characteristic setting in early pieces was known as tahadu kola bemma, where gems were set into soft gold or silver over wax, the metal being moulded and pressed into shape around each gem as the work proceeds. According to Coomaraswamy, 'work so done is extremely rich and decorative in effect, but difficult to repair.'
The two halves of the box are hinged at one end and secured at the other by means of a latch. Both sides of the latch are engraved with a typically central Sri Lankan motif of adorsed parrots.
A heavy silver-gilt chain and spatula or spoon is attached to the box via the latch. The spatula has been cast with prominent beading.
The basic design for a killotaya appears based on a European gentleman's pocket watch – perhaps the result of early contact between the Sinhalese and Dutch, Portuguese and English traders. Examples used by commoners tended to be of brass and copper.
Lime was an important additive to the betel quid; betel or paan being a mild narcotic used socially in South and Southeast Asia. Visitors would be offered betel in Sri Lanka as a prelude to social discourse, but it was common for Sinhalese men to always carry their own supply of lime because it was believed that poison could most easily be disguised in lime. Hence the need for portable lime containers (killotaya) rather than portable betel sets in their entirety.
The King maintained royal workshops for the production of luxurious items such as this lime box, and a special officer – the lekam-mahatmaya – had charge of the king's jewels (Coomaraswamy, 1956, p. 209).
Solid gold items generally were rare – Sri Lanka is not rich in gold deposits – typically items were gilded (gold plated). Even the royal throne was only gilded or at best overlaid with hammered gold sheet that was repoussed and set with gems. Now on display in the Colombo National Museum, it was removed by the British in 1815 and taken to Windsor Palace, near London.
What the island of Ceylon lacked in gold was made up for by precious and semi-precious stones, particularly sapphires, garnets and moonstones. It has long been famous for gems and was well placed to serve demand from Europe, Arabia and India given its position in the Indian Ocean and centrality to trade routes. The gems given to King Solomon by the Queen of Sheba in the ninth century BC are said to have come from Sri Lanka (Goonatilake, 2010, p. 152). Marco Polo and Ibn Batuta were among the early visitors to the island to record the extraordinary endowment and use of gems. Robert Knox, a sailor with the East India Company who was held prisoner by the King of Kandy in 1660 said in his report about his experiences, that: 'In this island are several sorts of precious stones, which the King for his part has enough of, and so careth not to have more discoveries made. Also, there are certain rivers out of which it is generally reported that they do take rubies and sapphires and cat's eyes for the King's use. And I have seen several pretty coloured stones, some as big as cherry stones and some as buttons, and transparent, but understood not what they were. Rubies and sapphires I myself have seen.' (Knox's observations about rubies may not be accurate. It is more likely that the rubies that he saw would be more usually classed as garnets or pink sapphires today.)
The Italian traveller Varthema who visited the island in the early sixteenth century mentions how merchants who wish to mine gems must first purchase a plot of land from the King who keeps a representative available at all times to claim any gem larger than 10 carats.
As mentioned, most probably the box here was made for Sri Vikrama Raja Simha, the last king of Kandy or a close relative. The King's reign was one of great turbulence. The British gained Ceylon's Maritime Provinces from the Dutch during his reign. The King had asked the British to help him overthrow the Dutch but ultimately, the British overthrew the King. The British possibly provoked the King into acts of aggression and these and other relatively minor incidents were used as the pretext for their seizure of his kingdom. (For example, some traders from Puttalam on the coast who entered Kandyan territory were harassed and their betel or areca nuts were taken from them.) War was declared and in Match 1803, the British entered Kandy with no resistance. A massacre of the British ensued several months later and the King was restored. The King had to contend with a rival clan that wanted to replace him and establish a dynasty of its own. He dismissed the potential usurper and had his wife and children executed. Such executions had become a feature of his reign. The British invaded Kandy again in 1815 and the kingdom was ceded to the British via a treaty known as the Kandy Convention. Sri Vikrama Raja Simha was captured and held in a British fort in southern India. He died in exile in 1832. The capture of Kandy by the British ended 23 centuries of uninterrupted royal rule on Sri Lanka. The suppression of the royal family was mirrored by attacks on other nobles. By 1819, hardly a member of the leading Kandyan families was alive with banishments, executions and disease having taken their toll (Pilimatalavuva, 2004.)
The King's regalia and other jewels were dispersed with his exile. The National Museum in Kandy has on display a framed photograph of the killotaya with the caption "The chunam box 'killote' presented here is the Colombo Museum (purchased from Mrs G.B de Alwis of Kandy) and is said to have belonged to a member of the Dehigama family." It would seem that the killotaya came into the possession of a prominent Kandyan family which ultimately presented it to the Colombo Museum.
The condition of the killotaya here is very good. The hinge is stable and robust and the two halves fit tightly. Some of the stones might be replacements, or the stones are original but was assembled from stones from a variety of sources: garnets are commonly found in Sri Lanka but what today are classed as rubies are less common and more typically came to Sri Lanka via trade. (Sri Lanka has been something of an international clearing house for gems for centuries: it is home to a large Muslim Moorish minority that continues to facilitate the flow of gems to and from the island.)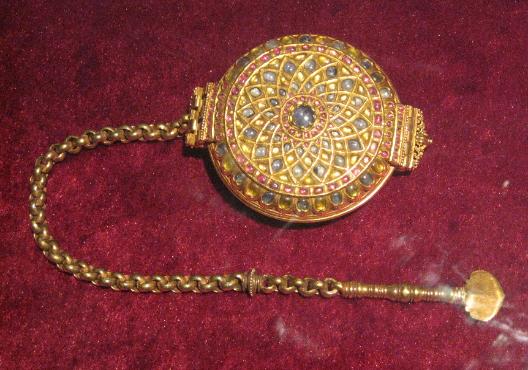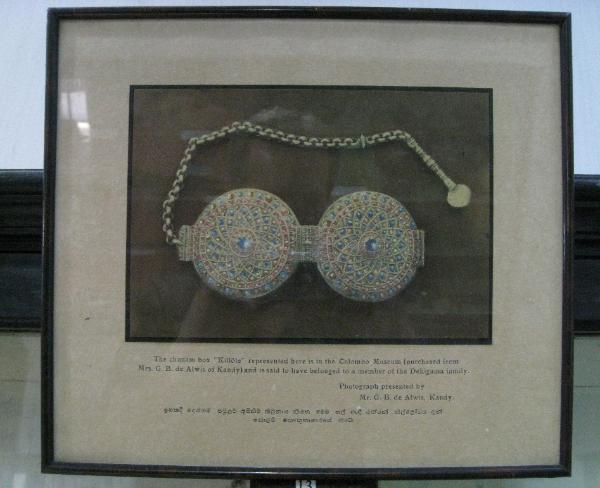 The killotaya on display in the National Museum of Colombo as part of the last King of Kandy's regalia.  A framed photograph of the Colombo killotaya in the National Museum in Kandy recording its presentation to the Colombo museum by a Kandyan family.
References:
Coomaraswamy, A.K., Mediaeval Sinhalese Art, Pantheon Books, 1956 reprint of the 1908 edition.
Goonatilake, S., A 16th Century Clash of Civilisations: The Portuguese Presence in Sri Lanka, Vijitha Yapa Publications, 2010.
Hussain, A., Sarandip: An Ethnological Study of the Muslims of Sri Lanka, 2007.
Pilimatalavuva, A., The Pilimatalavuvas in the Last Days of the Kandyan Kingdom, Stamford Lake Publishers, 2004.
See the Sri Lankan items we currently have in stock.
Receive our monthly catalogues of new items by email.
See our entire Catalogue.
Listen to our Podcasts on collecting and other matters.