Relaunch! Get Ready for Our Upcoming April Monthly Catalogue
Our next monthly catalogue will be available from Tuesday April 6 and will be our first catalogue since last November to feature entirely new stock.
Over the last few months, Michael has been busy completing a large manuscript for a book to be published later this year – his eighth published book (more on this later), and we have been further developing our social media reach.
Our Pinterest page now attracts 2.8 million monthly views for example.
We have also spent the last few months sourcing some wonderful items which we will be adding to the website over the coming months, starting with the April catalogue.
The April catalogue will include 40 superb and intriguing new additions to our website. Items will be from India, Nepal, Tibet, Indonesia, Colonial Batavia, China, Burma, Central Asia, Syria, Egypt, Sri Lanka Ghana and Nigeria. Several are really exceptional examples of their type – we are very pleased to have them.  And as usual, the mix will be eclectic and encompass several discoveries. Indeed, finding items and giving them the right attribution are one of the delights of what we do.
The UK and Europe is a great source of material culture items from around the world – items brought to Europe sometimes hundreds of years ago, and over the years, where they are from and their purpose often is forgotten. This sort of provenance is perfect for us. Research is what we spend much of our time doing and to that end we have a massive in-house library of thousands of books.
Many of our discoveries are now in museum collections and important private collections worldwide. Just in the last two months, and despite the pandemic, we have agreed sales to the British Museum and the Minneapolis Institute of Arts for items that hitherto had been hidden away in private houses in the UK for decades and perhaps longer. Bringing long-forgotten items back into circulation is a big part of what we do. It helps to increase the world's inventory of material culture and in the process, adds to knowledge about our pasts.
A prelude to the April 6 catalogue:
Two very rare, museum-quality Tanimbar (Eastern Indonesia) ancestor figures, 18th century. These were discovered in England, and have the most extraordinary age and patina. Both represent female ancestor figures, holding betel trays on their laps. They have been handled and caressed to the point that they have superb wear and a lustrous surface, It is likely that they were handled by females of the household to promote fertility.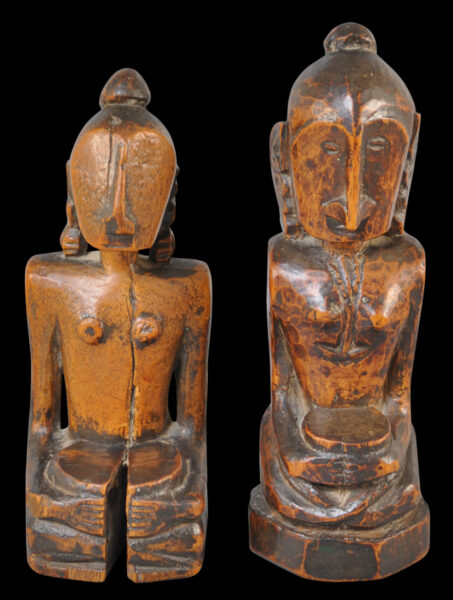 Receive our monthly catalogues of new stock, provenanced from old UK collections & related sources.
See our entire catalogue of available items with full search function.
______________