Discoveries 1: Our Best Dutch Colonial Find – A Rare Gold & Mother-of-Pearl Betel Box
This is the first in a series of blog posts devoted to our favourite-ever items that we have discovered.
Discovering items that hitherto have been forgotten, to give them the right attribution, is an important task of a good gallery. Research is so important. Many of our discoveries find their way to museums to be be protected for future generations. This is one of the most gratifying aspects of what we do.
The box here – with walls of mother-of-pearl sheet and pierced gold mounts – is our favourite Dutch colonial discovery. Most probably from 18th century Batavia (now Jakarta) in the Dutch East Indies, it is now in a private New York collection. We know of nothing else like it. It was brought into the gallery one day by a gentleman whose late father had left it to him. He didn't know where it was from, and he'd already taken it to the big two auction houses who had rejected it. They seemed to think it was European. In fact, it is one of the rarest and most luxurious Dutch colonial items we have seen.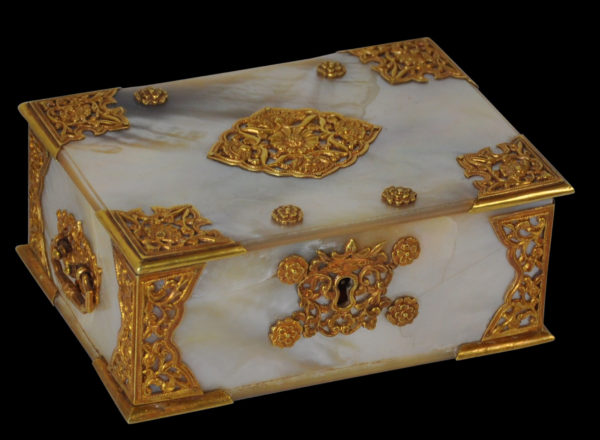 Here is our original description:
This is the rarest example of a Dutch East Indies betel or sirih box we have seen. The sides are of flat mother-of-pearl sheet and the mounts are of pierced, solid gold with light red staining.
No other betel box of this type of mother-of-pearl has been published. Possibly, it is the only surviving example. And it is outstanding.
The contrast of the gold with the lustrous milky mother-of-pearl is magnificent. This is a box that would have been commissioned for, or by, someone at the highest level of Dutch East Indies colonial society – perhaps the governor himself or a member of his immediate family.
Each side of the box, including the base, as well as the hinged lid, is composed of a single, flat sheet of mother-of-pearl. These have been joined with one another with precise and elegant dove-tail joins.
The gold mounts are chased in pierced, low relief with flowers and leafy flourishes. These cover all corners and sides. There is also an elaborate gold key plate as well as a gold lock (the key is no longer present); prominent, pierced gold hinge flanges inside the box; gold handles on either side with handle plates; a central scalloped, pierced plate to the centre of the lid; and small gold floral screw or pin covers (ten in total).
The Javanese habit of chewing betel was adopted by the local Dutch and exquisite boxes to hold the nut, the betel leaf and the other accompaniments were commissioned by the Dutch. The Dutch realised early on how important betel was to the indigenous people and how it was an essential part of hospitality including with the indigenous rulers. They quickly incorporated betel use with their dealings with local elites. Paintings that show the wives of Dutchmen at the time often show betel boxes prominently displayed. One such seventeenth century painting by J.J. Coeman which today hangs in the Rijksmuseum shows Batavia's Cornelia van Nieuwenroode with her husband Pieter Cnoll and two of their nine daughters, one of who is shown holding a jewelled betel box (Gelman Taylor, 2009, p. 42).
The fashion for luxurious betel accoutrements and other finery saw the governor-general in Batavia Jacob Mossel issue a decree in 1754 stating that only the wives and widows of the governor-general, the director-general, members of the Council of the Indies and president of the Justice Council were permitted to use gold or silver betel boxes adorned with precious stones, (Zandvlieyt, 2002, p. 206).
References:
Eliens, T.M., Silver from Batavia/Zilver uit Batavia, Gemeentemuseum Den Haag/W Books, 2012.
van de Geijn-Verhoeven, M., et al, Domestic Interiors at the Cape and in Batavia 1602-1795, Waanders Uitgevers, 2002.
Krohn D.L. & P.N. Miller (eds.), Dutch New York Between East and West: The World of Margrieta van Varick, Bard Graduate Center/The New York Historical Society/Yale University Press, 2009.
Veenendaal, J., Furniture from Indonesia, Sri Lanka and India During the Dutch Period, Foundation Volkenkundig Museum Nusantara, 1985.
Veenendaal, J., Asian Art and the Dutch Taste, Waanders Uitgevers Zwolle, 2014.
Voskuil-Groenewegen, S.M. et al, Zilver uit de tijd van de Verenigde Oostindische Compagnie, Waanders Uitgevers, 1998.
See the Dutch Colonial & related items we currently have in stock.
Receive our monthly catalogues of new items by email.
See our entire Catalogue.
Listen to our Podcasts on collecting and other matters.