Patric Hollington – Parisian Designer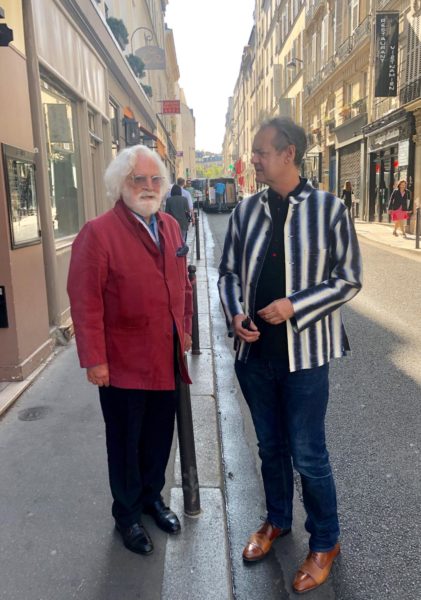 Patric Hollington, the designer of most of my clothes and especially my jackets which I wear to our gallery functions, passed away this week at his home in Paris.
Patric was of Irish descent but made his home in Paris for the last fifty years. He produced wonderful fusion-style clothes for men, and travelled across Europe and Asia, especially to India, in search of interesting fabrics to use for his creations. He specialised in jackets with Nehru-style collars and other jackets based on the Mao jacket. His clothes are particularly popular among French writers and other intellectuals and politicians, many of whom made their way to his studio in Rue Racine in the 6th Arrondissement where it had been since 1974. (See more on Patric Hollington in this Irish Times profile.)
I am pictured with him above, near Rue Racine, last year (we are both wearing Hollington jackets!), and wearing several of his creations below.