Tekat Embroidered Textiles from Malaysia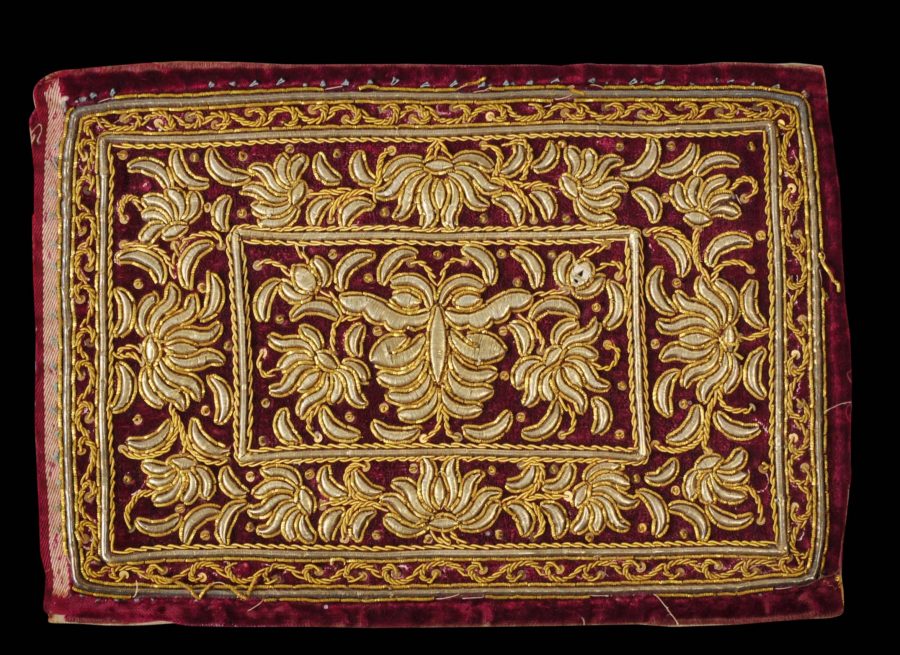 Tekat is the Malay name given to the technique of decorating textile panels (usually velvet) with thickly applied gold thread decoration. When the thread is applied by couching, the technique is  known as tekat timbul or tekat suji.
Often the decoration is in the form of arabeques or flowers (bunga).
Sections of the decoration can be raised as well, and this was achieved by inserting small cut-out sections of cardboard (mempulur) and then covering them with the couching work. Additionally, small, metallic spangles often were sewn on as well.
Tekat work most commonly is seen on panels intended to be sewn onto the ends of long still pillows or bolsters used to decorate the marriage bed, often as part of elaborate Malay wedding rituals. (The Malays are the dominant group on the Malay Peninsula, but also are prominent in southern Thailand, coastal regions of Borneo, east Sumatra and the Riau islands which are located south of Singapore.)
Examples of tekat panels intended for wedding bolsters can be seen here. The final image shows a bed set up for a Malay wedding complete with tekat embroidery that is on display in Malaysia's Muzium Negara in Kuala Lumpur.
See all our available textiles from Malaysia, Indonesia & elsewhere.
See all our Malay World & Indonesian items.
Receive our monthly catalogues of new stock, provenanced from old UK collections & related sources.