Discoveries 5: Our Best Chinese Export Silver Find – A Massive Wang Hing Punch Bowl
This is the fifth in a series of blog posts devoted to our favourite-ever items that we have discovered.
Discovering items that hitherto have been forgotten, to give them the right attribution, is an important task of a good gallery. Research is so important. Many of our discoveries find their way to museums to be be protected for future generations. This is one of the most gratifying aspects of what we do.
This massive Chinese export silver bowl was in an important UK collection of silver and is now in a private collection in Sydney, Australia. It is one of the largest examples of Chinese export silver that we have seen an one of the finest. It is more than 40cm across,  almost 20 cm high and weighed more than 2 kilograms!  It also had fascinating provenance. (Also, listen to our Podcast on Chinese export silver.)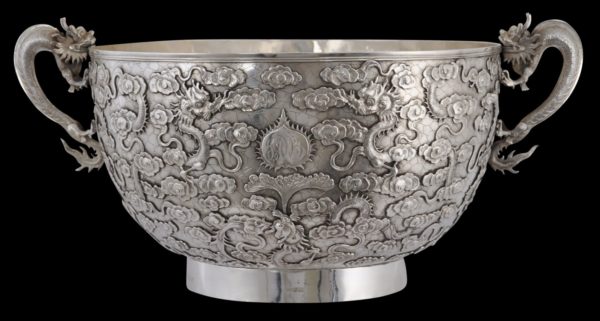 Here is our original description:
This large punch bowl by the well known silver-smithing firm of Wang Hing, is a stunning example of Chinese export silver. It is monumental in every aspect.
It comprises a large, wide body decorated on the exterior with many sinuous dragons and floating clouds against a 'cracked ice' background. The exterior decoration has been chased onto silver plaques that have then been applied to the smooth exterior. The walls are thick and the bowl is heavy in the hand.
Each side also has a central, tear-shaped 'flaming pearl' cartouche engraved finely with the initials 'CJM' on one and 'JDB' on the other. On each side there are applied, elaborate dragon handles. The bowl sits on a plain ring foot.
The interior is plain and highly polished, and is itself quite marvellous with its sweeping contours.
The foot is engraved with the message 'Katherine A Myers, to her brother Theodorus' Wife, Catalina J Mason Myers. February 25th 1903.' Theodorus Bailey Myers (1821-1888) was an American lawyer, philanthropist, served as a colonel in the  US Military, a collector of books and historical manuscripts which were donated to the collection was donated to the New York Public Library  on his death, and founding fellow of the American Geographical Society. (Among his collection was a complete set of autographs of the signers of the Declaration of Independence.)
The foot of the bowl is stamped with 'WH' for Wang Hing, '90' and a Chinese ideogram.
Wang Hing was a firm that was active in Guangdong (Canton) and Hong Kong in the last quarter of the nineteenth century and first quarter of the twentieth century.
The bowl is in excellent condition. Its massiveness and fineness marks it out as exceptional and rare.
References:
Chan, D.P.L., Chinese Export Silver: The Chan Collection, published in conjunction with the Asian Civilisations Museum, Singapore, 2005.
Forbes, H.A.C. et al, Chinese Export Silver 1785-1885, Museum of the American China Trade, 1975.
Marlowe, A.J., Chinese Export Silver, John Sparks, 1990.
See the Chinese export silver items we currently have in stock.
Receive our monthly catalogues of new items by email.
See our entire Catalogue.
Listen to our Podcasts on collecting and other matters.