Indonesian Shadow Puppet Dishes – Unusual Exportware from Japan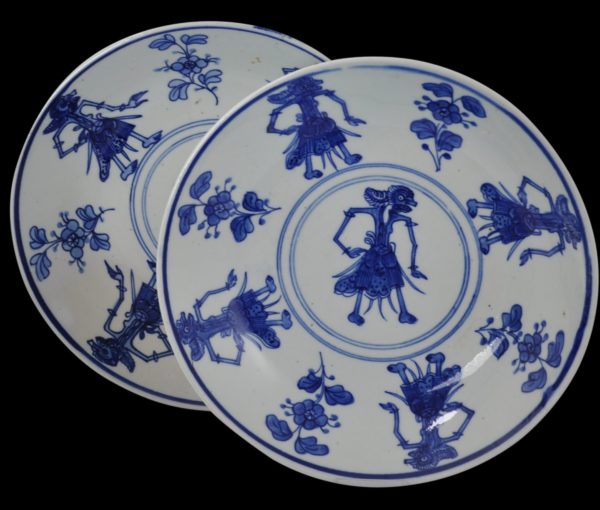 We are used to thinking of porcelain produced in China and Japan for export as intended mostly for the European market, but of course it was also produced for markets in Asia too.
This pair of dishes, which date to the 19th century, are part of a rare genre of 'blue & white' porcelain made in Japan for the central Java market in what today is Indonesia. They are of shallow form with rounded sides and with a low, bevelled too rim. They are of white porcelain with underglaze designs in blue.
Both dishes are decorated by hand with the Japanese potter's interpretation of four Javanese shadow puppets (wayang) around a central roundel decorated with a further wayang figure. The four outer wayang figures are separated by leaf and blossom sprays.
The wayang figures are of classic central Javanese wayang kulit form: they are cartoonish, stick-like figures with long, pointy noses, central Javanese aristocratic dress incorporating batik patterns, and, like conventional wayang figures, are presented in profile. Wayang puppets were used on Java to present performances based on the Indian epic Ramayana and Mahabharata stories. Made of leather and supported by sticks, they were used against a back-lit screen to present a puppetry performance.
Shadow puppets were used across Asia, from India to China and in many parts of Southeast Asia.
Probably the dishes were commissioned on behalf of the kratons (palaces) of central Java. More dishes than plates, they have relatively steep sides, which makes them ideal for eating rice with wet curries with the hands as all on Java did. The steep sides would have been used by the diner to form a ball of rice against the side with the right hand, and the rice ball was then used to mop up the gravy of the curry, before being delivered to the mouth.
A similar, though larger dish, and most probably from the same set, is in the Department of Museums and Antiquities, Kuala Lumpur, Malaysia.
Both the dishes here are marked on their reverses with Japanese ideograms, which probably are the trade marks of the potter.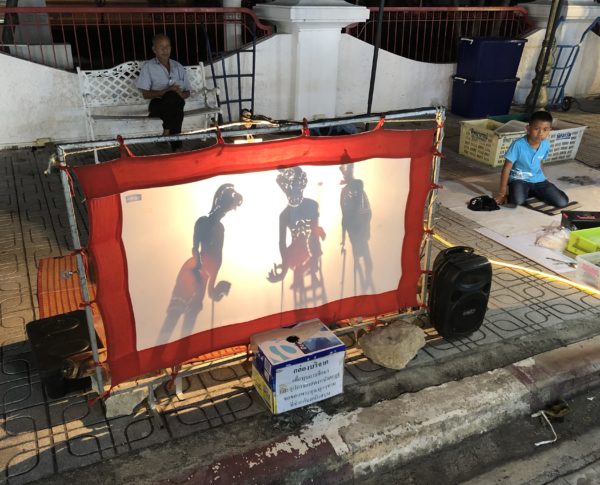 Above and below: a shadow puppet performance in a night market in Songkhla in southern Thailand.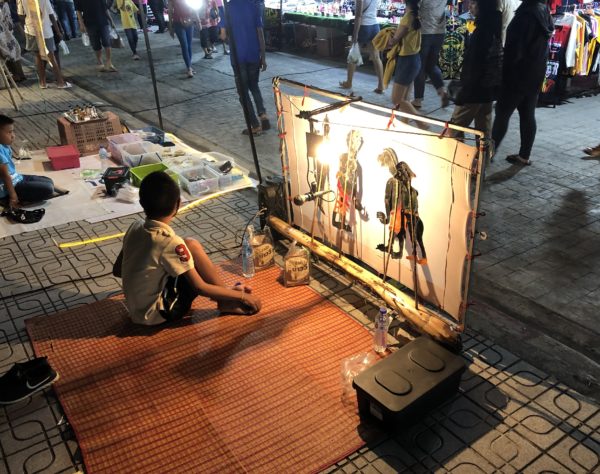 This impressive large, brass model of a mythical garuda bird is actually a lamp that was used to illuminate the wayang master's screen. It is from Java, and was sold recently by us to a museum.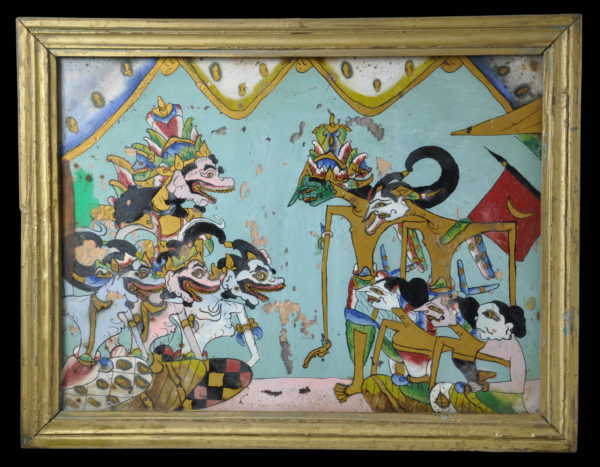 This reverse-painted glass painting is from central Java, around 1920, and it depicts wayang figures, similar to these that appear on the dishes above.
Receive our monthly catalogues of new stock, provenanced from old UK collections & related sources.
See our entire catalogue of available items with full search function.