Visiting the Wanglee Family Compound, Bangkok
A year ago, I was very fortunate to be given a tour of the well-preserved Wanglee Family compound on the banks of the Chao Phraya River in Bangkok's Khlong San District, by a member of the family, the very elegant Mrs Nongnute Wanglee.  The compound tells a fascinating story of early Bangkok commerce – being both a home for the extended family, a private river port to service the family's trading interests, and encompassing extensive godown or warehouse facilities with associated offices. Included is a shrine to Mazu, a Chinese goddess of the sea and the maritime, fitting for a family whose wealth depended so much on sea trade.
The Wanglees were one of Bangkok's five big Thai business families of Chinese descent.  Now Thai citizens for many generations, like most of Bangkok's Thai-Chinese community they are of Teochew descent, a dialect group originating in Swatow (Shantou), on the the eastern coast of Guangdong, China.
The house and compound was built largely from brick and teakwood in 1881 for Tan Siew Wang,  the family patriarch. A modified two-storey Chinese courtyard house in an architectural form known as a san he yuan (meaning three buildings surrounded by a courtyard), it was built in a U-shape with the open end facing the river. The style was based on the family home of the Poshyananda family, into which Tan had married. Tan used his cross-border family and clan links to establish a highly successful trading house across Southeast Asia and to southern China. Later, the family's businesses expanded into rice milling, insurance, real estate and banking. By the 1920s, the family was one of Siam's largest rice millers and exporters, and by the 1980s, the family owned one of Thailand's largest private banks, Nakornthon Bank (this was acquired by Standard Chartered Bank in 1999.)
The centre of the family's business activities shifted to Bangkok's modern business district, but the compound remained in family hands. And after renovations, the family generously opened the  compound in 2017 to the public. It is now known as Lhong 1919. Facilities include cafes, boutique shops and art galleries, but most importantly, the compound now hosts regular cultural events, theatrical performance and exhibitions. On the occasion of my visit, many exterior walls had been decorated with extraordinary contemporary 'street' murals.
It is very fortunate that the compound has been preserved and has not been taken over for another high-rise condominium or hotel project. It preserves an important part of Bangkok's commercial history – one that is connected to one of Thailand's most important Thai-Chinese business families. In this regard, Lhong 1919 is an important heritage site not just for Thailand but for all of Southeast Asia across which local Chinese commercial minorities made such an important contribution in terms of economic development and regional commercial integration.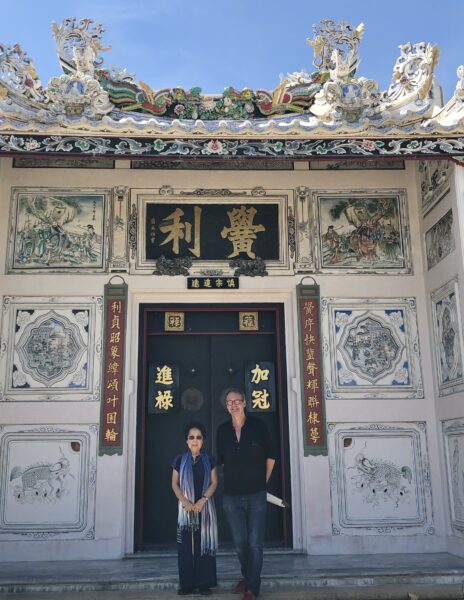 At the entrance to the Wanglee reception hall: Mrs Nongnute Wanglee, Michael Backman.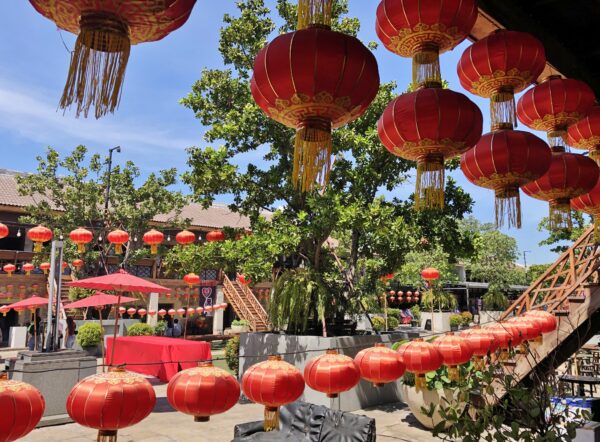 Inside the Lhong 1919 courtyard.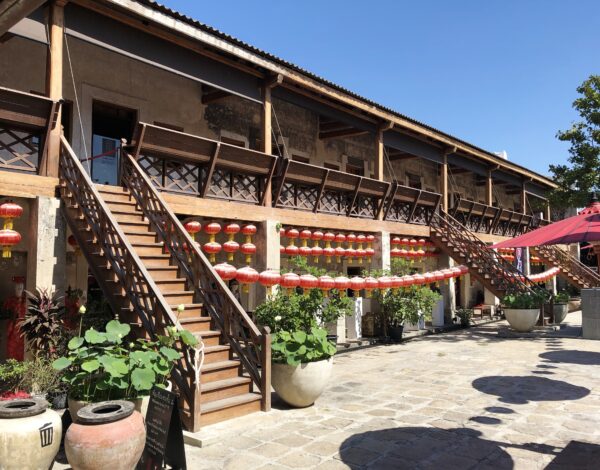 Old office areas in the compound.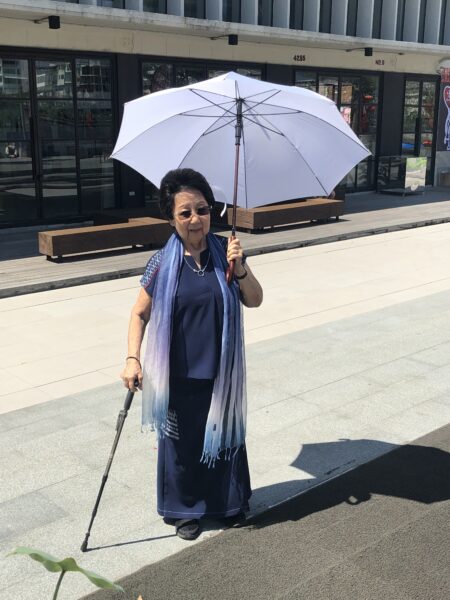 Mrs Nongnute Wanglee.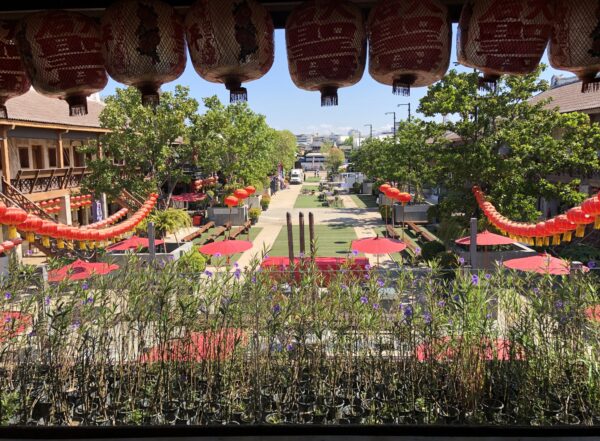 Inside the Lhong 1919 courtyard, looking towards the Chao Phraya River.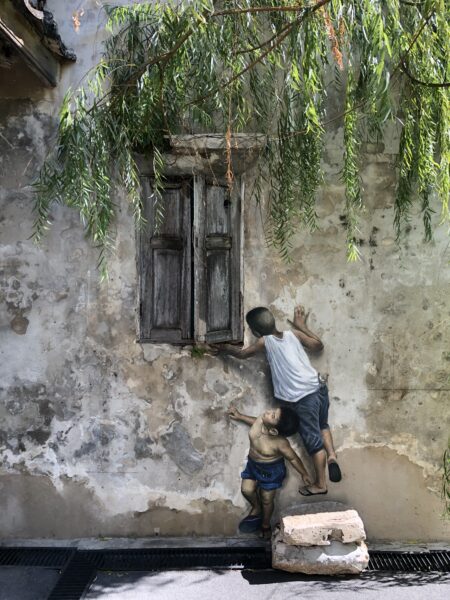 A superb life-like wall mural.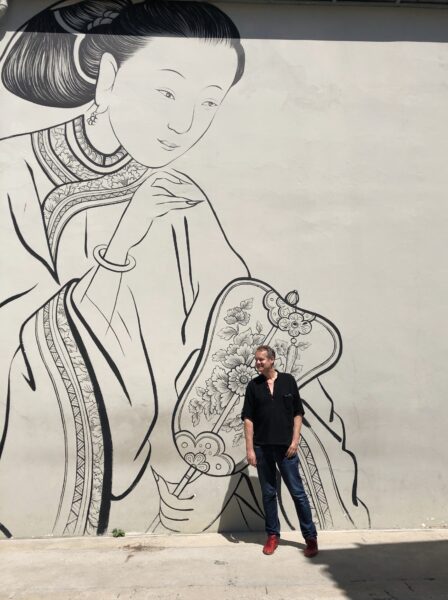 A giant wall mural.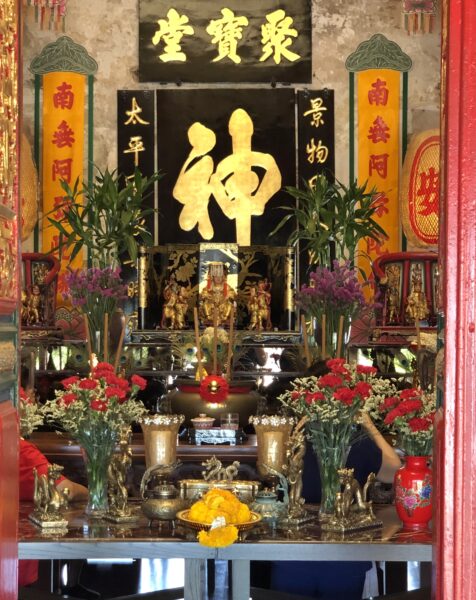 The Mazu shrine.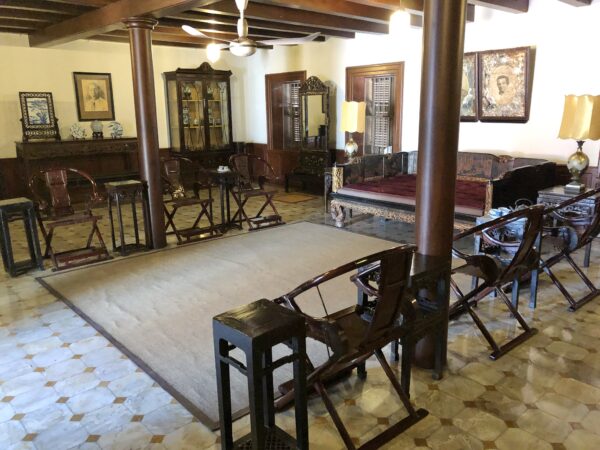 The private reception hall now used for annual family gatherings.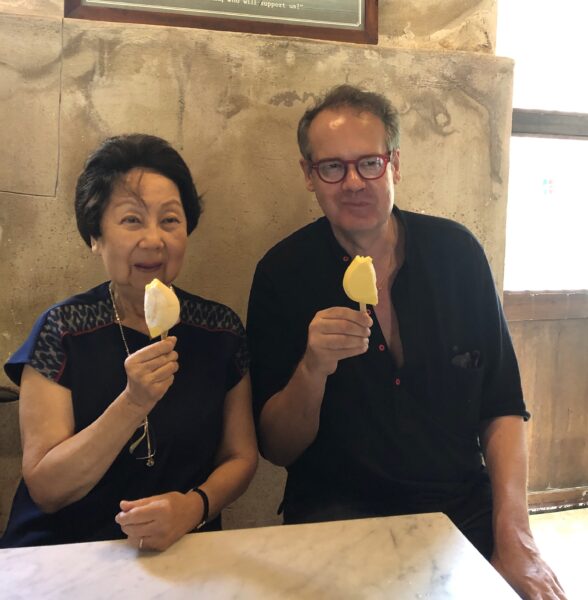 Enjoying durian icecream.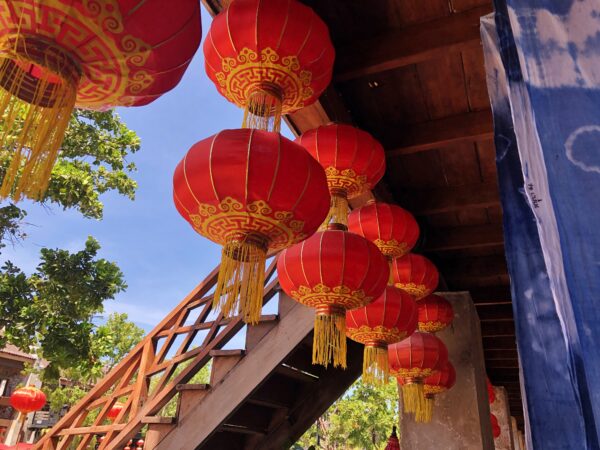 Lanterns, Lhong 1919.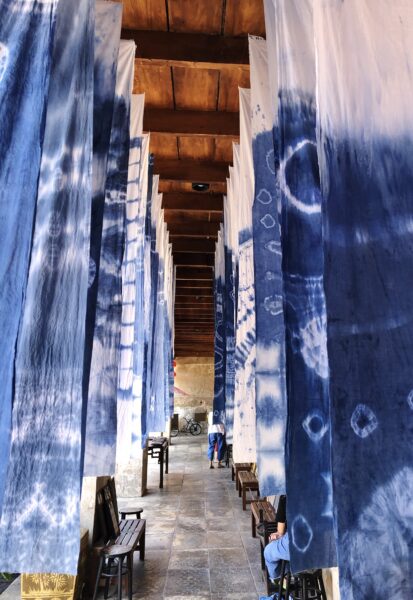 Tie-dyed fabrics, Lhong 1919.
Receive our monthly catalogues of new stock, provenanced from old UK collections & related sources.
See our entire catalogue of available items with full search function.
____________