Contemporary Palestinian Embroidery on Show in Cambridge, UK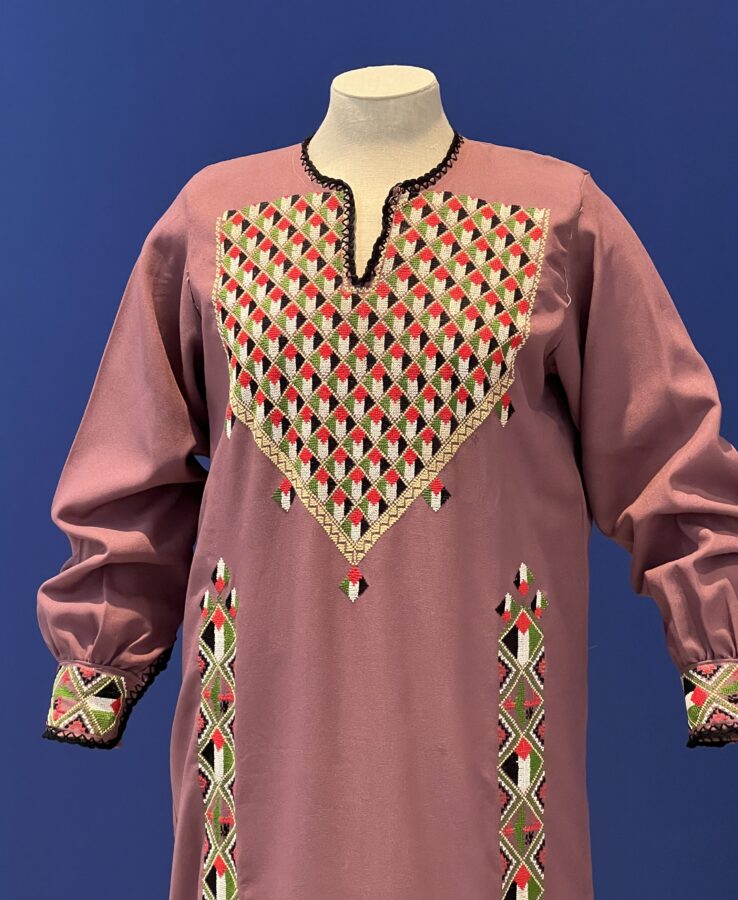 The Kettle's Yard exhibition space which belongs to the University of Cambridge in Cambridge, UK, has from July 8, 2023 to October 29, 2023, a small but marvellous exhibition called 'Material Power: Palestinian Embroidery'.  More than 40 examples of embroidered dress from the 19th and early 20th century are shown, but also more recent examples with embroidery which reference the political problems faced today by the Palestinians.
The exhibition demonstrates how the tradition of embroidery is very much alive in the Palestinian territories. But new motifs include the Palestinian flag, maps of the Palestinian territories and the word 'Palestine' itself.
The May 1948 Nakba or 'Catastrophe' is that more than half the Palestinian population was displaced from their homes. An aspect of the resulting diaspora and displacement is that strict regional variations in embroidery have broken down and styles and motifs have become mixed, as Palestinians from different locations and traditions have had to live in new settlements and refugee camps. During the first Intifada or Uprising (1987-1993), the political nature of the embroidery had new impetus.
It's a beautifully laid-out exhibition over several rooms with informative labelling which tell of the regional differences and the different functions that each dress had.
Tickets are free, but pre-booking is required. There is no accompanying catalogue unfortunately.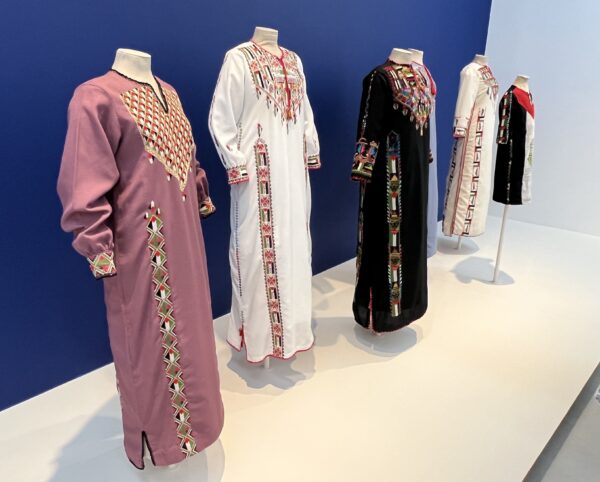 Above: several recently made dresses in the contemporary part of the exhibition.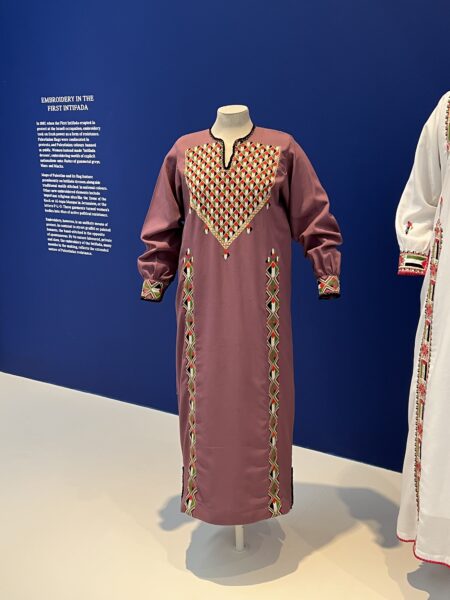 Above: A dress embroidered with a large panel comprising dozens of Palestinian flags.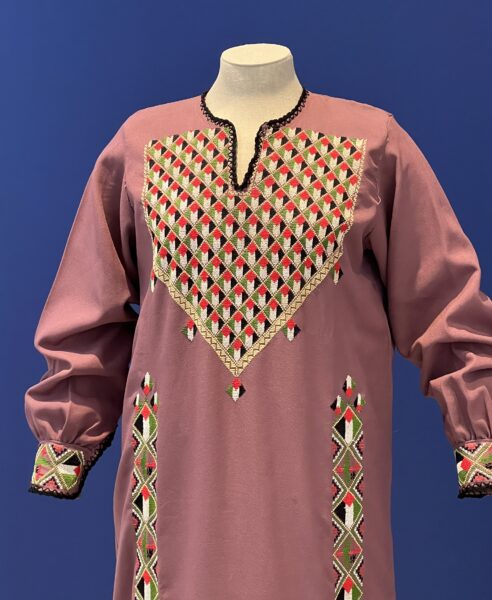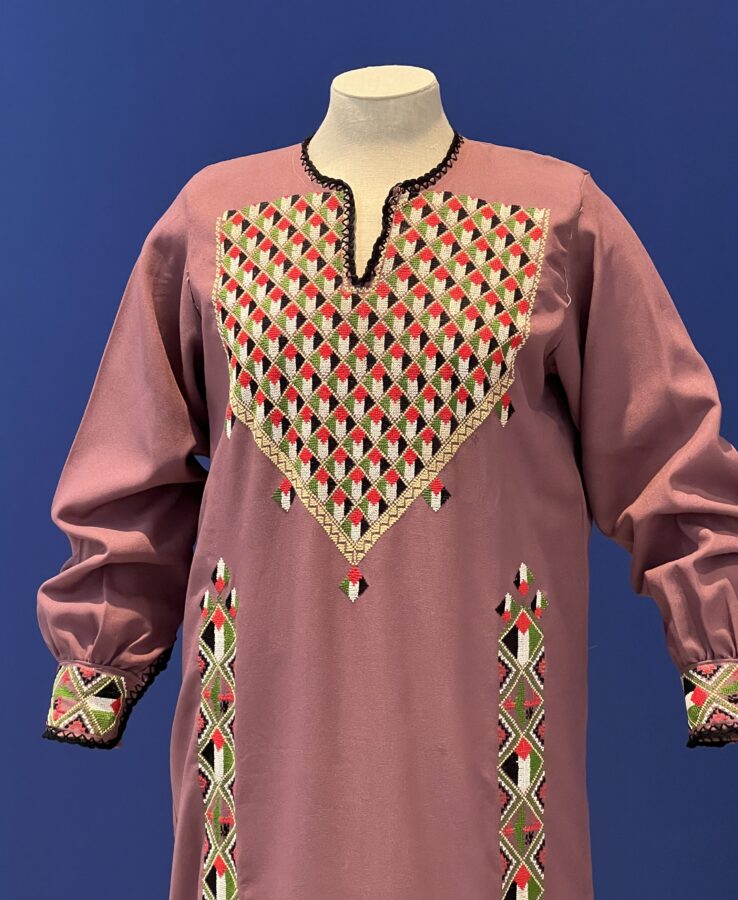 Above: Detail of the dress above.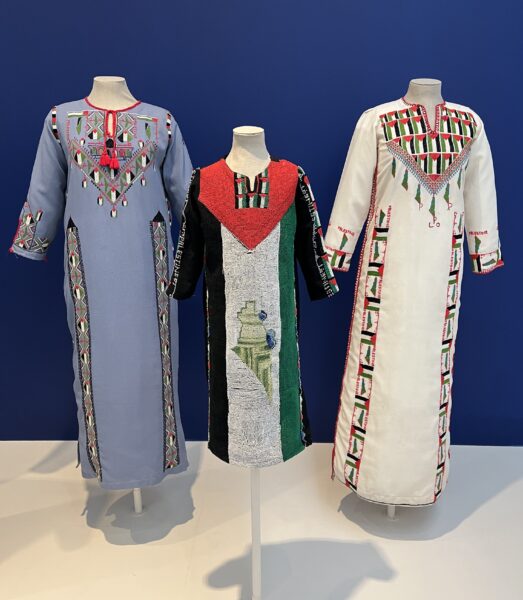 Above: further contemporary dresses embroidered with Palestinian flags and the central one with a map showing Palestine's old borders.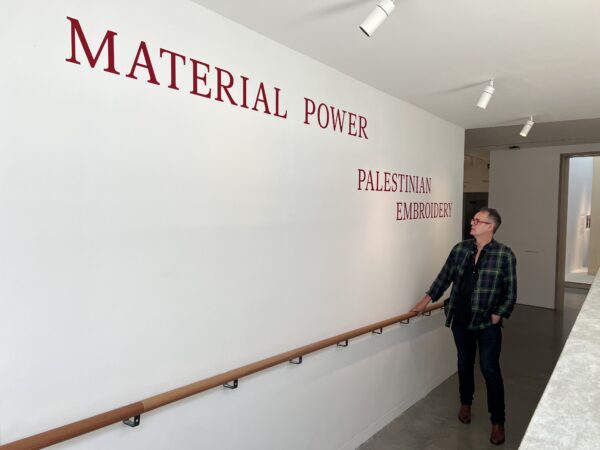 Receive our monthly catalogues of new items by email.
See our entire Catalogue.
Listen to our Podcasts on collecting and other matters.